Looking to build your own home gym? Whether you're looking to save money on gym memberships or just want the convenience of working out at home, having the right flooring can make all the difference. Not only does it protect your subfloor from damage caused by heavy equipment, but it also provides a comfortable and safe surface for exercising. In this article, we'll discuss some of the best solutions for your home gym flooring.
One of the most important factors to consider when choosing home gym flooring is your fitness regime, which will dictate the type of flooring solution you will need. Plenty of options are available, including interlocking rubber floor mats, rubber flooring rolls and home gym tiles. Each of them comes with their own pros and cons, and it's important to analyze your needs first before making a purchase decision.
For example, if you plan on doing heavy weight training or using barbells and kettlebells, you'll want to choose a heavy-duty option that can withstand the impact. On the other hand, if you are mostly doing yoga, Pilates or other similar exercises, you'll want a surface that's comfortable to roll around on and can accommodate the movement.
Here are some solutions you can consider while installing or renovating a home gym.
TERRAIN® | VULCAN INFINITY
In Terrain Vulcan Infinity, the options are almost limitless, as the name would suggest. With endless color options and the durability of a 7 mm Vulcanized Rubber Tile, you can express whatever you desire. Performance and comfort are well balanced in the Terrain Infinity. The interlocking for easy installation. Made of premium Natural and Styrene-Butadiene Rubber (NR - SBR), the tile is designed for commercial and high-end home gyms where performance matters above all else.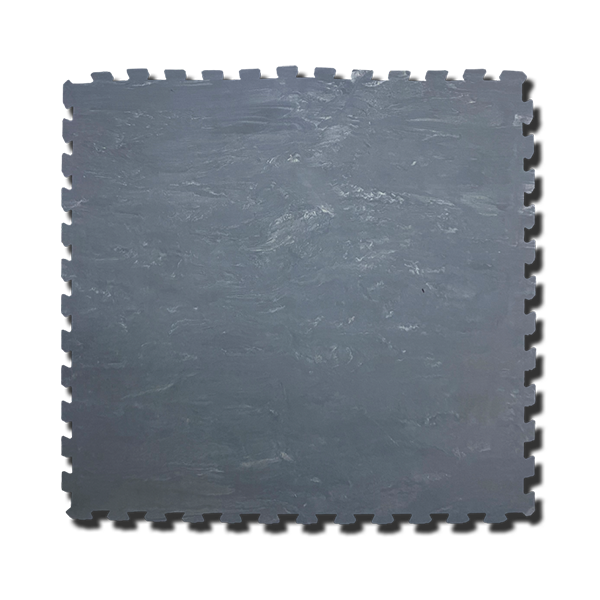 PERFORMANCE ATTRIBUTES
Compatible with most floor finishes
Simple installation
High impact absorption reduces noise
Anti-slip orange peel texture
Dense and sturdy
Multiple color options
Easy to clean and maintain
Low VOC
MATERIAL
100% NR - SBR in vibrant colors
TERRAIN® | VULCAN EXTREME
Terrain Vulcan Extreme tiles share a lot of similarities with the Infinity, but unlike the latter, these are available only in black. Specially designed to withstand extreme use, these vulcanized rubber tiles are robust and maintain their stability even under heavy pressure. They are simple to install on a variety of surfaces, and they effectively absorb impact and noise. Terrain Extreme offers a comfortable, anti-slip surface with optimum durability for commercial and home gyms.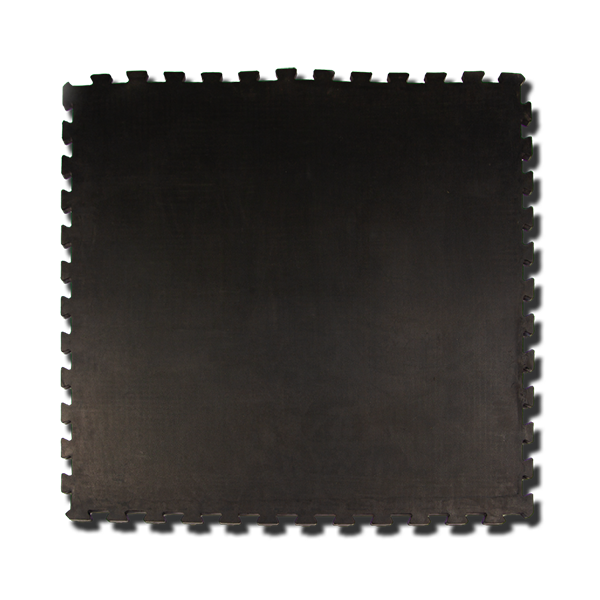 PERFORMANCE ATTRIBUTES
Compatible with most floor finishes
Simple installation
High impact absorption reduces noise
Anti-slip orange peel texture
Dense and sturdy
Multiple color options
Easy to clean and maintain
Low VOC
MATERIAL
100% NR-SBR in Black color
TERRAIN® RUBBER ROLLS
One of our most adaptable products, Terrain Rubber Rolls can be used in a variety of spaces, including home gyms. Rubber rolls are available in various colors and have a seamless quality to the flooring, making it one of the best-looking rubber flooring options. However, unlike recycled rubber tiles, rolls are not very easy to install and almost always require professional assistance.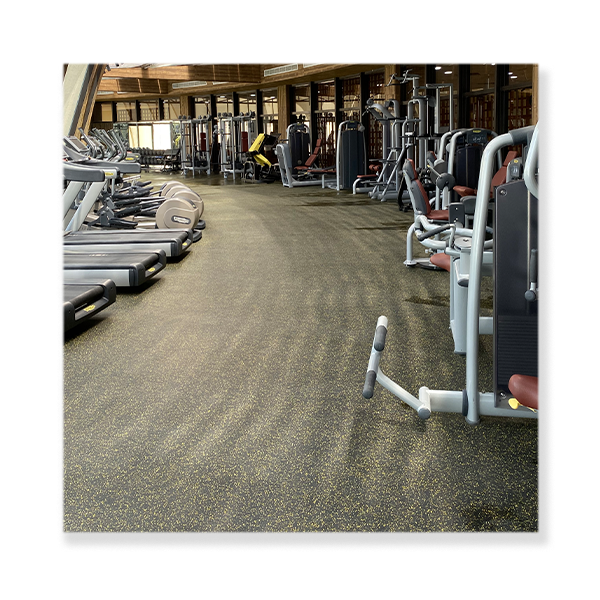 KEY FEATURES
Smooth, premium surface
Alternative to tile flooring
Easy to clean and maintain
Almost seamless appearance
Available vibrant patterns
Excellent impact absorption
MATERIAL
Rubber with EPDM speckles
TERRAIN® | ECO TURF
What if you could get the feel of working out on a meadow, without leaving the comfort of your home? Terrain Eco Turf is a prefabricated recycled rubber tile with an artificial grass surface – combining the portability, performance and ease of installation of a rubber tile with the softness of grass.
The base of the Eco Turf tiles are made using recycled EPDM granules (just like other products in the Terrain Eco series) which makes it an eco-friendly option as well. These tiles are also HIC tested at our in-house facility making them ideal for children's play areas.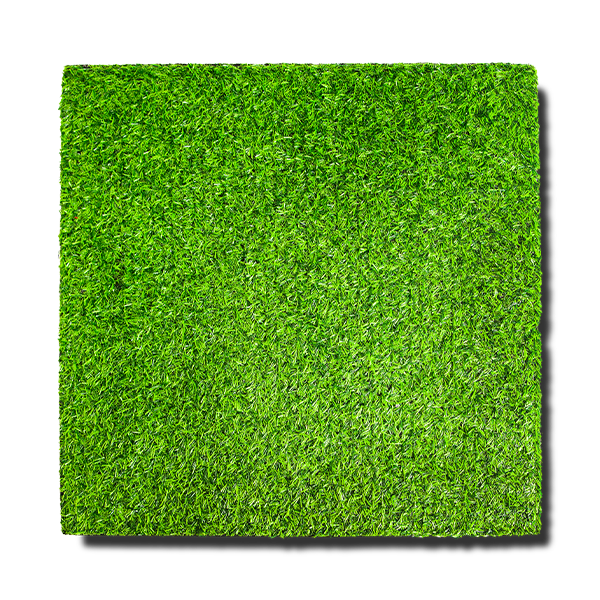 KEY FEATURES
Nature-like look and feel
Compatible with most floor finishes
Soft and comfortable to walk on
Simple installation
High impact absorption reduces noise
Easy to clean and maintain
Low VOC
Ideal for multifunctional spaces
MATERIAL
100% recycled SBR base
Synthetic grass fibers
TERRAIN® | ECO INTERLOCK
Terrain Eco Interlock tiles are without a doubt the simplest and most user-friendly home gym flooring tiles around. Even an unskilled artisan can easily install, remove, and replace as necessary. These tiles are available in vibrant colors and can elevate any home gym. Our interlock tiles recently got a facelift as well, making them even better than before.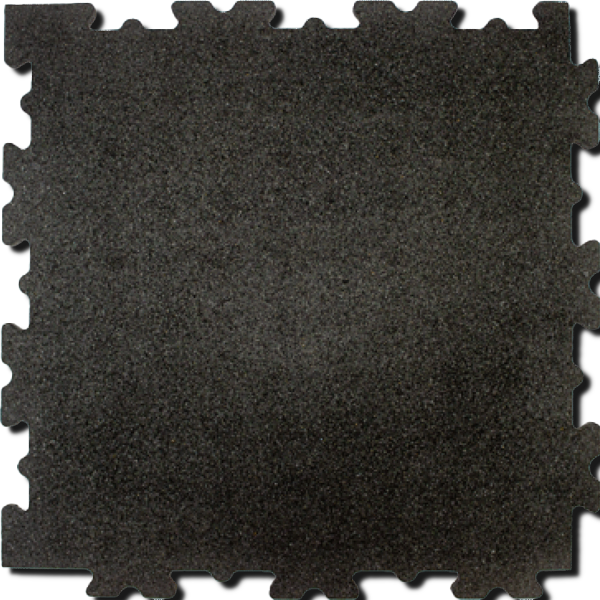 KEY FEATURES
Easy to install
Easy to clean
Vibrant color options
Excellent subfloor protection
Good impact and noise absorption
Low VOC
European quality materials
MATERIAL
100% SBR granulated in multiple color variations
Since there is a plethora to choose from, it's easy to get confused while choosing the right home gym flooring. If you're confused, reach out to Terrain's flooring experts! Our team will be more than happy to work with you and figure out the ideal flooring solution.
All our rubber tiles are made using European-quality materials at our state-of-the-art factory in the UAE. To learn more about Terrain rubber flooring products and our other solutions for businesses, industries, and schools, check out the rest of our website or give us a call at +971 4 263 2332.